We are pleased to announce our attendance at the Kazakhstan International Transport & Logistics Exhibition TRANSKAZAKHSTAN 2018 that will be held from the 18th till 20th of September in Almaty. If you would like to set up one-to-one meetings please feel free to contact us directly:
Jaanus Paas
e-mail: j.paas@silsteve.ee
АS SilSteve
Multifunctional Terminal in the Port of Sillamäe
Nil Ismailova
mob: + 372 53316835
e-mail: n.ismailova@silsteve.ee
АS SilSteve
Multifunctional Terminal in the Port of Sillamäe
Additional Samson® Truck Unloader for AS Silsteve at the Port of Sillamae, Estonia
Ely/UK, March 2018
The new mobile Samson® Material Feeder will receive bulk fertilizers and grain direct from 45 tonne tipping trucks and will discharge onto an ongoing SAMSON Shiploader at a peak output rate of 625 m³ per hour. This Material Feeder will complement the existing SAMSON Shiploader with twin Samson® Feeders which has been active at the Port of Sillamae, Estonia, since 2015 and another SAMSON Shiploader supplied a few years earlier.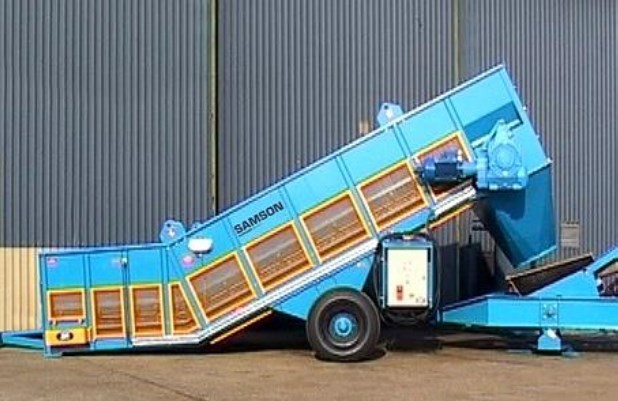 The mobile Samson® Feeder includes a 3 m wide rubber belted apron design unit mounted on a steel structure and supported by double apron bars located at every pitch of the conveyor chain. To accommodate a variety of trucks and loaders the universal entry point includes a 4.5 m wide flared entry section thus increasing the volume of the feeder entry and reducing vehicle alignment time.
As fertilizers and grain are free-flowing materials this material feeder is fitted with a cross-cleat belt for material adherence during transfer. The discharge chute and all possible hose ends, couplings and bolting are in stainless steel to prevent against corrosion and provide longevity when handling fertilizers.
The Samson® Feeder has forward mounted wheel units and is towable using the access ramps. For ship loading the unit can be positioned at a 180° arc around the Shiploader reception hopper.